TBC 阻燃剂
flame retardant for textile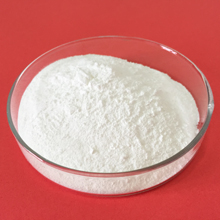 商品名 / Trade name :TBC 阻燃剂 / TBC flame retardant for textile
通用名 / Common name: TBC
化学名 / Chemical name: 三(2,3-二溴丙基)异三聚氰酸酯
分子式 Molecular formula: C12H15N3O3Br6
分子量 / Molecular weight: 729
CAS NO: 52434-90-9
EINECS NO: 257-913-4

结构式 / Structural formula: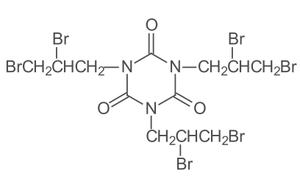 性质 / Properties:
可溶于甲苯、丙酮、苯,微溶于甲醇,不溶于水、醇、环烷烃,贮存隐定,相容性好,能很好的与增塑剂和其他助剂配合使用。
Soluble in methylbenzene, acetone, and benzene, slightly soluble in methyl alcohol, insoluble in water and cycloparaffin.
用途 / Uses:
广泛用于聚烯烃、PVC、发泡聚氨酯、聚苯乙烯(PS, XPS), ABS, PP、不饱和聚酯、多种合成橡胶和合成纤维等制品中,具有相容性、耐久性、耐光性、耐水性好等特性。同时,在纺织品阻燃处理中效果良好。
It is widely used in polyolefin, PVC, foam polyurethane, polystyrene (PS, XPS), ABS, PP, unsaturated polyester, synthetic rubber, synthetic fiber, and other products.
包装贮运 / Packing, storage and transportation:
内塑外编织袋包装,每件净重20公斤,或纸塑复合袋,每件净重25公斤。
Woven bag lined with plastic, net weight 20kg; or paper plastic composite bag, net weight 25kg.
按无毒、非危险品贮运,避免潮湿。
To store and transport as non-toxic and non-dangerous goods.
质量指标 / Quality index:
| | | |
| --- | --- | --- |
| 产品型号 / Model | TBC-A | TBC-B |
| 外观 / Appearance | 白色粉末 / White powder | 白色粉末 / White powder |
| 白度 / Whiteness(ISO) | ≥95 | ≥92 |
| 熔程 / Melting range(℃) | 105-115 | 100-110 |
| 含量 / Content(%) | ≥97.0 | ≥95.0 |
| 酸值 / Acid Value (mgKOH/g) | ≤0.3 | ≤0.5 |
| 挥发份 / Volatile matter(80℃/2hr,%) | ≤0.3 | ≤0.5 |