Introduction:
Piperazine pyrophosphate is an intumescent halogen-free environmental flame retardant,
which takes phosphorus and nitrogen as flame retardant elements to form an expandedcarbon layer to block oxygenand fire source.Compared with halogen flame retardants, piperazine pyrophosphate has the characteristics of low smoke and low toxicity, and fully meets the requirements of EU Directive 2002 / 95 / EC on restricting the use of certain hazardous substances in electrical and electronic equipment (i.e. ROHS directive), reach regulation and other environmental regulations. Piperazine pyrophosphate has excellent flame retardant efficiency, the addition content is lower than that of ammonium polyphosphate intumescent flame retardant, and the thermal decomposition temperature is high, which can withstand higher processing temperature.
Application:
Piperazine pyrophosphate has a wider range of applications. It can be used in PP, fiber PP, PE, TPE, TPU and other thermoplastic resins. It can be used in injection molding, extrusion, molding and other processing methods. Hf-300 can also be used with some other phosphorus nitrogen flame retardants to achieve better flame retardant effect.
Advantages:
Piperazine pyrophosphate has high purity; Better processing performance, easy cutting, no bridge; Good product appearance without agglomeration and white spots; Excellent heat aging resistance and precipitation resistance.
Indicators: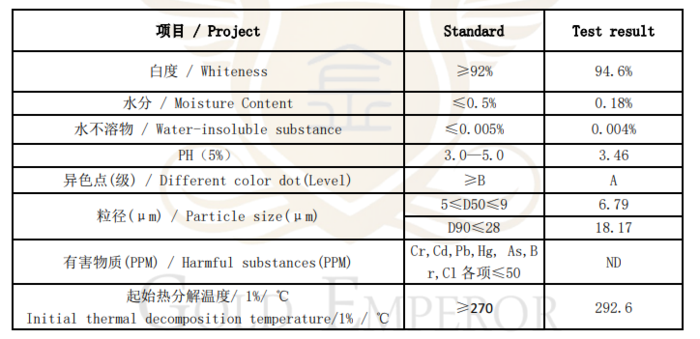 Packaging / storage: 25kg / bag; It shall be transported as general chemicals and stored in a dry and cool place to avoid direct sunlight.

Recommended dosage:

Processing precautions:
(1) In the process of processing, it is suggested that the processing temperature should not be too high on the premise of ensuring the uniform dispersion and blending of flame retardants, so as to avoid affecting the performance of products due to the decomposition of a small amount of flame retardants. When using twin-screw blending granulation, the processing temperature is recommended to be less than 220 ℃, and the screw combination should use the combination of medium strength. At the same time, it is recommended to maintain a certain vacuum during the processing.
(2) In the extrusion process of non fiber system, screen can be added, but the mesh number of screen should not be too high.
(3) Substances with adverse effects on flame retardancy: some inorganic fillers will affect the flame retardancy effect, and calcium carbonate will seriously affect the flame retardancy effect. When talc powder, barium sulfate and wollastonite are added, the amount of flame retardant shall be appropriately increased; When the content of carbon black exceeds 0.5% (or the content of black masterbatch exceeds 1%), the flame retardant effect will decrease; Additives or toners containing BR and Cl (such as phthalocyanine green) may cause flame retardant failure.